AMINA HOCINE EP#2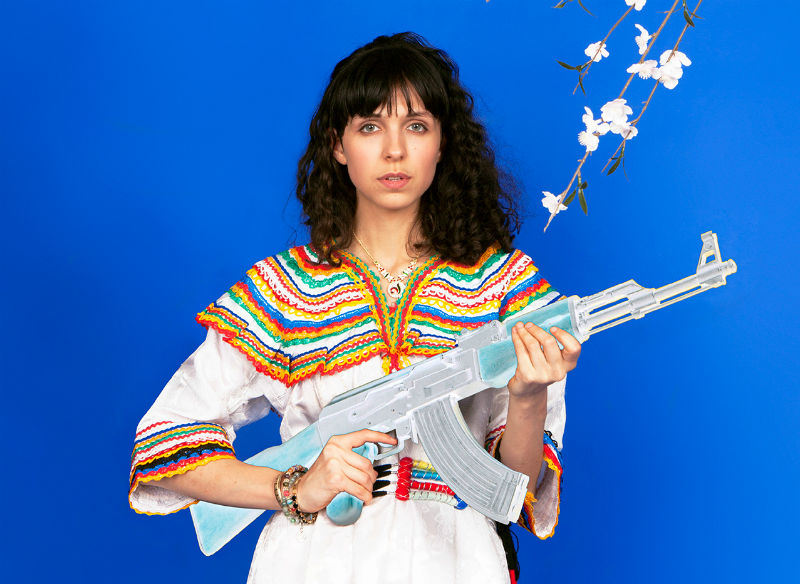 "Amina Hocine 2″
EP 12" vinyl & digital
Release date: 14 April, 2015
Get your vinyl from Bengans (Sweden) or Norman Records (UK)
Digital download via iTunes
Label: Clandestino Institut
Press contact: markus@clandestinoagency.org
www.clandestinoinstitut.org
It is in the boundary between dream and wakefulness that Amina Hocine builds her electronic mini-symphonies – or shall we say pop songs – sometimes wide awake, in lucid concentration, and sometimes in a sleep-like flow of spontaneous ideas. Amina Hocine's music is both familiar and unpredictable. The songs emerge without respect for established ideas about structure: verse, chorus and hook are irrelevant concepts. The music flows ahead like a dream you can not control but still want to continue.
Inspiration for the songs also comes from nocturnal Youtube music marathons, Carl Sagan ("the feeling that we're all made of star stuff"), an eccentric lady talking loudly about the blood of Christ on the tram in Gothenburg … Amina feels that she "is a radio" more than a composer in control of her creation: when she's tuned to the right frequency, the songs write them selves.
– Sometimes I try to work differently, as with Jar, on this EP. I had an idea that the song would consist only of body sounds. But after a while it a completely different turn and became the song you hear on the record.
This EP is released digitally and in a limited edition of twelve inch vinyl, and is the result of a period of almost total isolation in a small cabin in northern Zealand, Denmark. In two months time, Amina Hocine wrote and recorded the songs that would become her second EP here.
– It was more like a recreation room than a real house, eight square meters on Zealand Odde. Once there was a hurricane outside so the whole cottage shook. But mostly it was quiet and the best part was that I could stay in the music for long periods without interruption.
Amina Hocine 2 was mixed by Dan Lissvik from the celebrated Gothenburg duo The Studio. It is the second EP by Amina Hocine released by Clandestino Institut. This coolaboration has gradually become deeper and includes Amina's concert booking by Clandestino Agency. In 2014, Amina Hocine participated in a collaboration between Clandestino Agency and cultural center Makan in Egypt, where the musicians played together in a series of sessions both in Cairo and Gothenburg. Fragments from these recording will be issued by Clandestino Institut at a later date. In the spring of 2015, Amina Hocine is working as a composer at the Folkteatern in Gothenburg, where she writes music for two performances: Variation and Not Based on a True Story, both premiering March 7th. In the autumn, concerts in the US await.