HASSAN BLASIM – GUEST PROFESSOR AT CLANDESTINO INSTITUT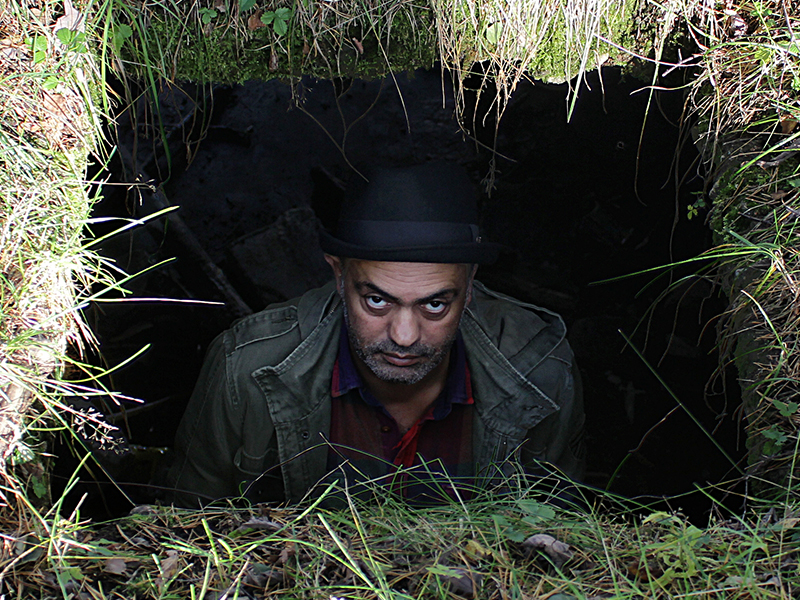 In a time where struggle for freedom of speech more and more has been hijacked by extremists and populists we are now proud to present the award winning writer Hassan Blasim as guest professor at Clandestino Institut.
During the spring of 2017 Hassan Blasim will give a course in creative writing for newcomers.
The theme for the course is "the right to narrate", a concept that explores the conditions for literary narratives in a time where dicussions of freedom of speech has turned into a tribune for racists.
BIOGRAPHY
Hassan Blasim is an Iraqi-born author who writes in Arabic. Since 2004, he has lived in Finland. The Madman of Freedom Square was published by Comma Press in 2009. It was long-listed for the Independent Foreign Fiction Prize in 2010. A heavily edited version of the book was published in Arabic in 2012, and was immediately banned in many Arab countries. The Iraqi Christ was published by Comma Press in 2013 and it won the Independent Foreign Fiction Prize in 2014. Both of the short story collections have been translated into several languages. The Corpse Exhibition was published in the US in 2014 by Penguin. Blasim was selected for the Barnes and Noble US-wide 'Discover Great Writers' programme. The Corpse Exhibition was selected for one of The Top Ten Books 2014 by Publishers Weekly. Blasim has been PEN-awarded three times. He was described by The Guardian as "perhaps the greatest writer of Arabic fiction alive."
CREATIVE WRITING FOR NEWCOMERS
Hassan Blasim, himself a refugee from Iraq, will be holding a course in creative writing for recently arrived refugees in Sweden. These workshops are mainly oriented towards Arabic (and English) speaking newcomers in Sweden. A limited set of places are left also for applicants who have no own experiences of beeing refugees themselves, but nontheless have a documented interested in an art of writing that takes its departure in contemporary conditions for asylum and residency permits.
THE RIGHT TO NARRATE
In a parallell module with the course in creative writing Clandestino Institut will be arranging a serie of open lectures and talks with international writers on the theme "the right to narrate". The purpose is to share experiences of literary writing in our time which has been pervaded by an escalating demonization of people who seeks refugium across national borders.
What kind of resistance to this recent development can the art of writing acheive? How can it vitalize human voices beyond their medial profile as costly victims, parasites or even potential terror threats? What kind of emancipatory processes are to be found in literary writing, in its encounter with the horror of the real or imagined threats? How will the art of writing be affected by radicalized images of warfare and humanitarian emergency? What kind of literature can challenge hegemonic narratives that are constantly used by populist, xenofobic and racist propaganda machinery in its attempt of creating a general political agenda? Who has the right to narrate?
WHEN AND WHERE
While the open lectures on the right to narrate takes place monthly from January 2017, Hassan Blasim's course in creative writing for newcomers will be held during three periods starting 27 February-10 March, 3-7 April and 1-5 May. After that folllows a period of independent work and guest lectures. The programme ends up with text conversations and readings during the 15th edition of Clandestino Festival 8-11 June 2017.
THE FORM OF TEACHING
The course takes place in open forms in which discussion and conversation is as important as the lectures. A number of writers and researches will be visiting the course to speak about their work in relation to the subject.
The practical element of the course consist in an individual textual work that each participant selects and develops freely, reading of each other's works, conversations and shorter collective writing excercises.
The aim is that the participants will broaden and deepen their technical skills and develop a way of critical thinking about writing in relation to the adressed problems.
The langauge used will be Arabic, English, and in some cases Swedish.
APPLY NOW!
Clandestino Institut
Stigbergstorget 8
413 18 Göteborg
info@clandestinoinstitut.org